What is Standard DV SSL?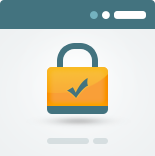 DV certificate is a basic level of SSL validation. Standard SSL Certificate encodes data using a cryptographic method consisting of two keys: Public Key and Private Key. Used together to formulate encrypted connections, public key encrypt date, and private key decrypts and restores data.
Domain validated certificates are suitable for your websites, blogs, and social media, or other sites that do not send private and confidential data. A Domain Validated certificate initiates the browser padlock and allows the use of https to secure your website visitors and customers that you care about their privacy.
Recommended Use Cases
Blogs
Informational
Pages
Server-to-server
Communications